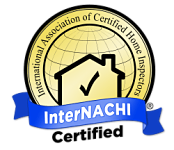 Now that you've had a home inspection, what do you do? Watch this Home Maintenance Book for Homeowners video. As a new homeowner, it's important to understand that your house requires care and maintenance. With time, parts of your house will wear out, break down, deteriorate, or simply stop working.
Top Notch Inspection Services' home maintenance book for homeowners, teaches you how your house works, how to keep it maintained and how to save energy. Top Notch's "Now That You've Had a Home Inspection" book is provided exclusively by InterNACHI Certified Home Inspectors. Ask your home inspector for your copy today!
At Top Notch, we are committed to providing both home buyers and sellers with the peace of mind they need thru the inspection process of their home. We will provide nothing short of a stellar inspection experience because we are thorough and communicate clearly. We set the bar for accuracy and Golden Rule service.
Top Notch is proud to be the gold standard among home inspection companies. We do this by providing the highest quality home inspection experience for buyers, sellers, investors and real estate agents. You can have complete confidence in us because our reports are thorough, accurate, complete and easy to understand. We know how to communicate clearly and professionally. We are family owned and operated so you will be treated like family.
Contact us for more information.